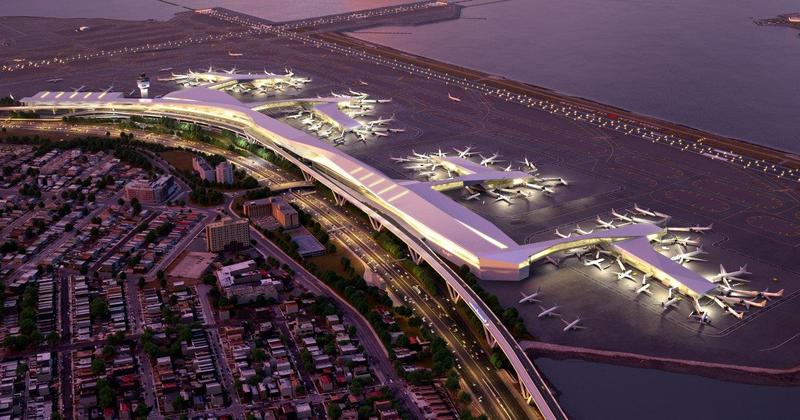 Photo courtesy of Gov. Cuomo's office.
This week in transportation, cities competed for federal Smart City money, construction began on a new LaGuardia Airport, and the South Carolina state legislature passed a road funding bill. Here are the most interesting and important stories from the past week:
TIME: How technology can fix America's crumbling infrastructure
Kevin Curry of Infor outlines the steps America needs to take in order to properly manage its increasingly deficient transportation infrastructure system. Specifically, Curry suggests creating a comprehensive inventory of every transportation asset, identifying the most viable projects, prioritizing projects based on established criteria (e.g. safety, comfort, reliability), and modeling the effects of investing in repairs, maintenance, or replacement.
Government Technology: Effort to build a smarter transportation network takes a giant step forward
The Smart City Challenge is underway, with various American cities competing for a $50 million federal prize as well as a suite of services from tech companies to help them achieve their urban renewal visions. This article illustrates some of the projects the cities are undertaking. For example, Kansas City is deploying automated kiosks to help residents figure out their best public transportation options, and vehicle-to-vehicle communications to help reduce freight congestion. Portland will launch a "mobility marketplace" that allows users to get traffic information as well as buy and sell mobility services.
CNBC: This is how electric cars become the norm
Jennifer Granholm, former Governor of Michigan and current electric car driver, advocates for a "coast to coast network" of high-speed charging stations colocated with existing rest stops to help electric car drivers get from one coast to the other. This would arise through public-private partnerships, using public funding to leverage private investment in the stations.
WNYC: Construction on a new LaGuardia to begin this week
With funding secured and a 35-year lease signed, construction is beginning on a new LaGuardia Airport, an airport frequently cited in conversations about the state of our air travel infrastructure. The project, which will cost $4 billion and be largely completed by 2021, will rebuild the airport's main terminal and connect it to new terminals being built by Delta, shifting the airport's footprint closer to the Grand Central Parkway to allow for two miles of new runway space, which will in turn reduce gate delays.
The Post and Courier: House approves roads bill, sends to governor
After years of on again, off again negotiations, the South Carolina legislature has passed a bill to allow for major new investment in the state's roads and highways without raising taxes. The state transportation department will be able to leverage $200 million a year into $2.2 billion in bonds over the next decade. The legislation also reforms how commissioners are selected for the DOT Commission, which is responsible for appointing a DOT Secretary and approving infrastructure bank projects.
Happy reading, and happy weekend!