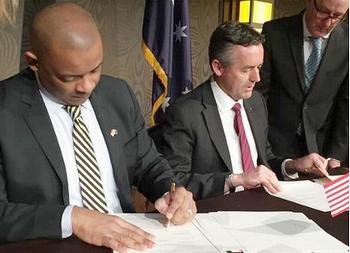 Photo courtesy of Transportation Secretary Foxx's office.
This week in transportation, a new survey found Americans are down on their transportation infrastructure, the California High-Speed Rail Authority chipped in to improve commuter train service in the state, and Amtrak announced faster trains for the Northeast Corridor. Here are the most interesting and important transportation stories from the past week:
The Hill: Poll: most voters say US infrastructure getting worse
A new poll from the Association of Equipment Manufacturers finds that nearly half of Americans think our transportation infrastructure has deteriorated in the past five years - and 70 percent believe investing in its repair will help stimulate the economy.
Business Insider: This animated map shows how radically a high-speed train system would improve travel in the US
The US High-Speed Rail Association is proposing 17,000 miles of high-speed rail track in America, connecting the country's major cities like never before. Click to watch a video showing where these rail lines would be and how much faster commuters and travelers could move between cities.
Silicon Valley Business Journal: High-speed rail chips in $713M for Caltrain electrification that could double ridership
Caltrain electrification took a step forward this week as the California High-Speed Rail Authority approved $713 million for its share of funding for a $2 billion project to electrify 50 miles of track between San Jose and San Francisco. Construction will begin next year after the Federal Railroad Administration has reviewed funding commitments from the Authority and other entities, with the first electric Caltrains scheduled to begin running in five years.
USA Today: Amtrak's Acela to run faster new trains on Washington to Boston route
Amtrak announced plans to replace aging Acela Express trains with new ones that can go up to 10mph faster than the current trains - to 160 mph in some sections of the journey from Boston to DC. The replacement project will cost $2.5 billion and the trains are expected to come online in three years.
Environment News Service: USA, Australia cooperate to advance smart transport
From ENS: "U.S. and Australian officials have signed a new agreement aimed at strengthening collaboration on key transportation priorities in technology and innovation between the two countries... The Memorandum of Cooperation will enable the two nations to exchange information, data and best practices on the use of public-private partnerships (P3s) to support infrastructure development, intelligent transportation systems and unmanned aircraft systems."
Happy reading, and happy weekend!