Rendering courtesy of All Aboard Florida
I last checked-in on the progress of high-speed rail (HSR) projects across the country back in
June 2015
, so it's well past time for an update. Here are the states where high-speed (or higher-speed, as the case may be) rail is making progress:
California
A shining beacon for high-speed rail in America or a $68 billion boondoggle depending on who you ask, California's HSR line appears to be in financial trouble. The state's cap-and-trade program, a quarter of whose revenues is earmarked for HSR, is raising
far less money
than expected, and the project still hasn't seen any private investment (which will be necessary lest the project come to rely on tax increases). Dan Richard, chairman of the California High-Speed Rail Authority, told state legislators last month at a
tense hearing
that private firms have expressed interest but want to see the first leg up and running before they commit. That leg - between the Central Valley and Silicon Valley - is slated to open in 2025.
Graphic courtesy of CAHSRA
Meanwhile, the California High-Speed Rail Authority has
approved
$713 million for its share of funding for a $2 billion project to electrify 50 miles of Caltrain commuter line track between San Jose and San Francisco. The project is expected to double ridership, as well as foster goodwill between the Authority and California commuters.
Texas
The privately-funded project to connect Dallas to Houston in 90 minutes is moving forward: the Dallas City Council
signed an agreement
with Texas Central Railway (the private company financing the project) to have TCR pay its share for an Army Corps of Engineers permit, which is needed for a train crossing planned over the Trinity River.
Graphic courtesy of Texas Central Partners
Obstacles remain, however: after being rejected for interstate-railway status by the National Surface Transportation Board (which would allow it to get around Texas land-rights laws), state lawmakers are
asking
whether the company, which has never built a rail line before, can qualify as a rail company to purchase land through eminent domain. The line is still expected to open in 2021.
Meanwhile, TxDOT is
also exploring
a possible line connecting Oklahoma City to the Rio Grande Valley. It will present the results of its study to the FRA later this year.
Florida
I probably shouldn't include Florida because it isn't really high-speed rail, but the story is still interesting. Another privately-funded venture, All Aboard Florida has raised nearly $5 billion in private capital for passenger rail and property development between Miami and Orlando. The first phase, connecting Miami to West Palm Beach, is expected to begin service next year and will travel 80 mph (like I said...). Once the line is completed, it will be able to accelerate on its way to Orlando up to 120 mph. Amtrak's Acela Express, by comparison, reaches speeds of 150mph, though only in some places.
Graphic courtesy of All-Aboard Florida
AAF is pretty excited about the trains themselves, which will feature free wi-fi and chargers/USB ports, aisles wide enough to accommodate wheelchairs, train doors at-level with station platforms, and an app that lets you purchase parking and connecting services at the same time that you book your ticket.
If nothing else, it's an interesting case study on private funding for new rail projects in our country, as well as the importance of interconnectivity of those projects with existing transportation modes.
Northeast Corridor
There's been movement on high-speed rail along the Northeast Corridor (Boston to Washington, DC), but it's still several years and many hurdles away from being realized. Japan, a country that already has high-speed rail and is looking to export its Maglev technology around the world, has
pledged
$2 million for a feasibility study on high-speed rail connecting DC to Baltimore. The study will take two years to complete and would lead to a final decision on whether to pursue HSR in the 3-5 year range. The line would likely be mostly underground, making it an expensive project: Japan has pledged a loan of $5 billion for what could be a $10 billion project.
The Federal Railroad Administration, meanwhile, is considering three proposals to improve rail service on the New York to Boston stretch, which has been a matter of
fierce debate
in Connecticut. Governor Malloy has asked the FRA to prioritize making improvements to existing rail lines first, but Amtrak supports the most ambitious plan, which would establish high-speed rail from New York to Boston through Danbury, with trains traveling at 220 mph.
Graphic courtesy of FRA
As I wrote last month, Amtrak
debuted
new high-speed trains for its Acela Express line connecting DC to Boston. The trains will be able to travel 160 mph (though they could go as fast as 220mph if the infrastructure could handle it - sound familiar?), a 10-mph improvement over the current trains. They'll start revenue service in 2021.
Illinois
Illinois DOT still plans to open higher-speed service (110mph) between St. Louis and Chicago by 2017. Just over $1 billion, mostly in federal grant money, has gone towards track improvements to allow for faster trains, safety improvements at crossings, and building new or improving existing stations along the corridor. The line will also have side-tracks to allow trains to pull over and let other trains pass, making it easier for commuter trains to share the track with freight trains.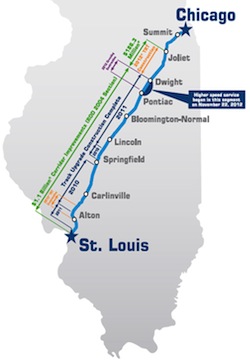 Graphic courtesy of IDOT.
Minnesota
The North American High Speed Rail Group, a private rail developer, is
meeting soon
with a Chinese delegation and Minnesota business leaders to discuss moving forward on HSR connecting the Twin Cities to Rochester along US Highway 52. The group is conducting a preliminary study with work permits granted by the Minnesota DOT, and will release the results of the study to the public if they decide to pursue the line.
Graphic courtesy of NAHSR
Conclusion
High-speed rail is coming to the US, if slowly. Right now, it looks like the Houston-Dallas line will come online first, with the first phase of California's line opening a few years later. Taken together, it's an interesting cross-section of public and private ventures, but many of them share the same obstacles of funding and property rights. The next president, whether it's Hillary Clinton or Donald Trump,
will support
high-speed rail as President Obama has, so it feels like we're moving in a direction where we'll see more projects like these. Who knows: when I give another update in another year, maybe this list will be longer.