This week in transportation, outgoing Transportation Secretary Anthony Foxx talked about the prospects for an infrastructure bill, the federal government proposed new rules for vehicle-to-vehicle communication, and the Federal Railroad Administration released a proposal for faster Northeast Corridor service. Here are the week's most important and interesting transportation stories from the past week:
Trump White House may face tough road with infrastructure plan: Foxx
Bloomberg BNA reports, "Outgoing Transportation Secretary Anthony Foxx said he hasn't spoken with his potential replacement, Elaine Chao, about policy issues. But he acknowledged she may face obstacles trying to usher President-elect Donald Trump's $1 trillion infrastructure plan through Congress. 'I consider myself very lucky to have come in here in a time when there wasn't as much bipartisanship as we've seen in previous eras to successfully push for a transportation bill. That was not an easy feat,' he told reporters at a pen and pad. 'We'll see what they're able to do. The next Congress, the next White House will have an entirely different dynamic than the one that I walked into. And I wish them luck.'"
Infrastructure strategy touted by Trump has produced uneven results
Scott Rodd analyzes the Trump infrastructure proposal's reliance on public-private partnerships (P3), writing "Turning to private investors to finance public works isn't free money. Investors expect to be paid back and earn a profit on their investment. Tolls often enable investors to generate revenue and keep projects as close to revenue-neutral as possible. But critics point out the perils of P3s relying too heavily on tolls and other user fees to generate revenue. Many private investors, for example, push for noncompete clauses that limit or ban the development and maintenance of surrounding projects."
Government to require cars be able to talk to each other
The New York Times reports, "All new cars and light trucks would be able to talk wirelessly with each other, with traffic lights and with other roadway infrastructure under a rule the Transportation Department proposed Tuesday... The proposal calls for 50 percent of new vehicles to have the technology within two years after a final rule is issued, and 100 percent of vehicles with four years. It would still take years or even decades after that for the full potential of V2V to be realized. That's because V2V can prevent collisions only among vehicles equipped with the technology."
Faster rail service is coming to America-slowly
CityLab gives a roundup of high-speed rail projects making progress despite a lack of financial support from the federal government. Laura Bliss writes, "Despite having long been left for dead, those sorts of rail improvements and connections are coming to life in the U.S.—corridor by corridor, at varying velocities. In the absence of much dedicated federal funding, private investments are paying the freight in some cases; others are getting state funding. If Trump wants to create jobs with splashy infrastructure upgrades, giving these existing high-speed rail projects a cash injection might be a good bet."
Feds propose and Amtrak stop at the Philly Airport and greatly speeding up regional service
The Philadelphia Inquirer reports, "A new plan for railroad service on the East Coast includes an Amtrak stop at Philadelphia International Airport and improvements that could help the region's railroads run faster and more reliably. The NEC Future project, announced Friday by the Federal Railroad Administration, would also straighten the Frankford Curve, north of 30th Street Station, where an Amtrak train derailed in May 2015, killing eight people. A trip from Philadelphia to Washington would take an hour and 20 minutes, 20 minutes less than today. Getting to New York City would take 55 minutes, 15 fewer than now."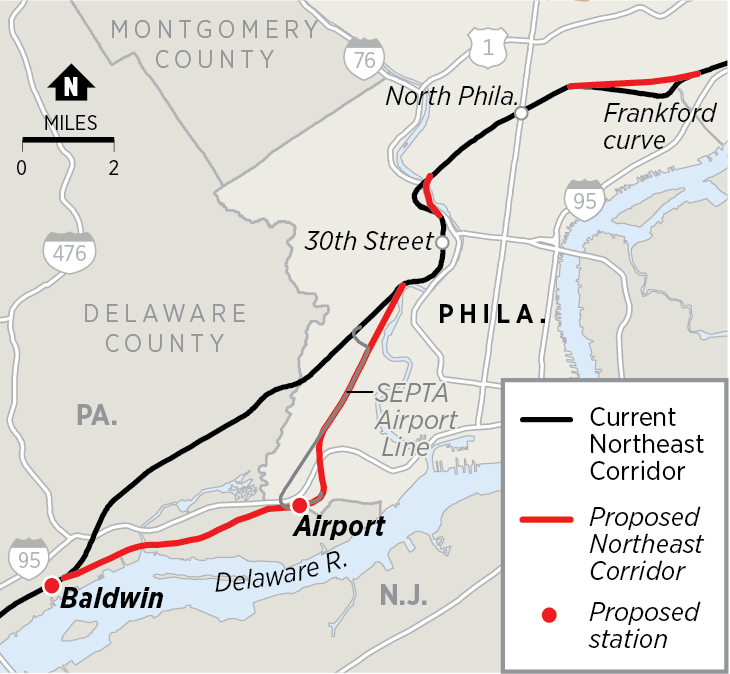 Courtesy of the FRA.
Happy reading, and happy weekend!